Are you looking for a reliable and trustworthy platform to help you make a profit from betting online? Well, look no further than OutPlayed.com. In this review, we will cover all the essential features and benefits of OutPlayed.com, examine their offers, see if it's legit and safe, and weigh the pros and cons to help you make an informed decision.
What is OutPlayed.com?
OutPlayed.com is an online platform that was designed as a hub for bettors who wish to maximize their online betting profits. They offer a wide range of matched betting tools, betting calculators, odds matcher, and other necessary features to help users succeed in betting. OutPlayed.com also provides a supportive community that bettors can connect with to exchange or request advice, best practices, and so on. With a user-friendly interface, OutPlayed.com is an excellent tool that bettors, including seasoned and beginners, can use to enhance their online betting experience.
[elementor-template id="4600″]
Is OutPlayed.com Legit?
Yes. OutPlayed.com is definitely legitimate. It is a well-established betting arbitrage platform that has been around for over five years. OutPlayed.com has received positive feedback across various online platforms, including Trust Pilot, as a satisfactory betting tool for users seeking to increase their odds of profits while betting online. The platform's legitimacy is further established by the seals and other licensing standards that verify their ethical practices, making it an ideal betting service for anyone looking for betting opportunities without the risk of getting caught.
Is OutPlayed.com Safe?
Yes, OutPlayed.com is safe to use. The platform takes the security and privacy of its users seriously. The platform uses reliable SSL encryption to ensure that all user data is logged and stored safely. OutPlayed.com is also registered with the Information Commissioner's Office to comply with data protection regulations. Furthermore, users have control over their personal information and can always choose to update, modify, or delete it at any point in time.
OutPlayed.com Plans
OutPlayed.com offers a range of subscription plans designed to cater to the various needs of users. The subscription plans allow users full access to all the platform features, including various betting options, tools, calculators, trackers, and support. These subscription plans are competitively priced to offer value to customers.
OutPlayed is a leading matched betting platform in the online gambling sector that offers a unique sports betting experience. The platform provides users with a comprehensive guide on how to use their expertise in sports betting to make more money from bookmakers.
OutPlayed offers its users three pricing plans to choose from, depending on their budget and needs. Each of these plans offers a unique set of features, so users can choose based on their betting preferences.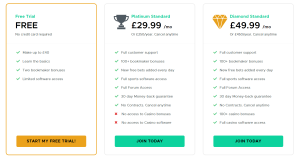 Free Plan: As the name suggests, this plan is entirely free and includes a limited set of features. Users can expect a small selection of bookmakers to choose from, along with limited functionality.
Platinum Monthly Membership
The first of these is a monthly payment option that costs £29.99 per month/£250 per year, and while not the cheapest matched betting membership fee, the number of tools and features you gain access to makes it a worthwhile investment.
Outplayed's monthly fee was previously higher so this is a notable saving without any reductions in services or features, so there's never been a better time to sign up. It's worth mentioning that you won't have access to Casino Bonuses under a platinum membership.
Diamond Monthly Membership
The newest membership plan offered by Profit Accumulator is the diamond plan that costs £49.99 per month/£450 per year, saving you £££ on yearly membership. Diamond monthly membership gives you access to everything including casino bonuses and sports and casino software which will give you the maximum monthly profits.
This membership costs a one-off annual payment of £250 for the platinum membership and £450 for the diamond membership, offering a saving of £££ for platinum and for diamond membership compared to using the monthly membership option.
While not everyone can afford this one-off payment, those that can make a significant saving doing so and gaining access to Profit Accumulator for an entire year is a sure way to make lots of profits – it'll end up paying for itself if used correctly!
Choosing the right plan depends on your betting strategy and budget. If you're just starting with matched betting and want to try it out risk-free, the Free Plan may be the best option. If you're looking for more features, the Platinum Plan is a good choice. If you're a professional gambler, the Diamond plan is the best value for money, as it offers the most comprehensive range of features and bookmakers including casino offers.
OutPlayed strives to provide a tailored experience for each user, and their pricing plans reflect this. Whether you're an experienced gambler or a beginner, there's an OutPlayed plan that caters to your needs.
OutPlayed.com Fees
OutPlayed.com fees are transparent, and users know the cost of each plan upfront. The platform also offers a free trial to help newcomers gain insight into what OutPlayed.com has to offer. Users can also cancel their subscription plans at any point in time. The platform does not charge any hidden costs whatsoever, and users have unlimited use of features available on their subscription plan.
Offers on OutPlayed.com
OutPlayed.com offers a range of matched betting offers that users can take advantage of. These offers cover most of the major websites, including William Hill, Paddy Power, Ladbrokes, and many others. OutPlayed.com works by identifying various free bets and bonuses that these bookmakers offer; they then recommend how users can use the promotions to their advantage by making suggestions on how to profit from these offers through arbitrage betting, matched betting, and so on.
[elementor-template id="4600″]
OutPlayed.com Oddsmatcher
OutPlayed.com's oddsmatcher tool is an essential feature in ensuring that users can make informed bets. The tool allows users to compare the odds of various bookmakers to ensure that they get the best odds possible. The oddsmatcher tool also comes with other features like filters that allow users to narrow their search by sport, time, and other variables to find the best possible odds for their bets.
Other Matchers
OutPlayed.com offers other matchers, including dutching calculators, each-way calculators, and other comparable betting features. These matchers ensure that users can explore all betting opportunities available to them and make the most informed decision regarding their betting strategy.
OutPlayed.com Calculators
OutPlayed.com comes with a range of calculators that users can use to determine their betting strategy or make informed bets. These calculators include Lay, Back, and Lay Stake Calculators. The calculators are available to all users regardless of their subscription plan.
OutPlayed.com Profit Tracker
OutPlayed.com's profit tracker is an essential feature that helps users track their profits and losses accurately. The platform's profit tracker tool allows users to see their overall profit and record transactions. Users can also see a breakdown of their profits and losses by bookmakers, showing which bookmakers offer the most profitable opportunities.
Community
The OutPlayed.com community is a welcoming, supportive, and vibrant group of bettors. The OutPlayed.com forum is a great place for users to connect and share best practices, tips, and tricks on how to make the most of the platform. There are also moderators available to answer any questions and assist with any issues that users may have while using the platform. There is also a live chat feature available to help users get in touch with support as easily as possible.
Pros and Cons of OutPlayed.com
Pros
A well-established community of bettors and online betting experts
User-friendly interface
Variety of matchers, calculators, and trading tools.
Pricing is transparent, and prices are reasonable
Offers seasonal discounts and promotion codes
Provides a free trial offer for newcomers
Profits tracker to help users monitor and track their profits and losses.
Cons
A subscription-based service
Some areas of the platform still need improvement
Our Verdict and Conclusion
OutPlayed.com is a reliable and trustworthy platform that provides an array of tools and features to help users increase their chances of making profits while betting online. They offer a comprehensive solution, including a matched betting tool, betting calculators, and odds matcher, among other features. The platform's pricing is reasonable, and they offer seasonal promotion codes and discounts making it accessible and affordable for users of all types. The user community is also very supportive and expertly moderated, offering a space for users to connect and share tips, tricks, and other information. Overall, OutPlayed.com is an excellent platform for anyone looking to increase their chances of making money while betting online.
[elementor-template id="4600″]