OddsMonkey Review in 2021
Oddsmonkey.com was started by Paul King in August 2011 and was very much a part-time project for over four years focusing on supplying odds matching software to other matched betting companies.
Oddsmonkey is one of the main hubs for matched bettors in the UK. They offer a multitude of tools and services and are in a league of their own to their competitors. Before becoming one of the staples for matched betting communities Oddsmonkey prided itself in offering the oddsmatching tool we all use today to find our matched bets and still have the number one oddsmatching tool among many others.
They provide all the training, tools, support, and community in exchange for a very reasonable membership fee. They have more than 40,000 active paying members since they started.
OddsMonkey General Info & Overview
| Specifications | Value |
| --- | --- |
| | As the developers of the original automated odds matching software, we're here to help you start your matched betting journey. |
| | OddsMatcher software finds and sorts odds from over 90 bookmakers, looking for the best opportunities so you don't have to. |
| | |
| | Keep an eye on where those profits are coming from and see what offers and sports work best for you. |
| | Discover all the latest available offers for the day, along with detailed guides to help you turn them into profit. |
| | Make sure you're always ready for The Off when it comes to Horse Racing offers, thanks to this dedicated tool. |
| | 30 Day Money Back Guarantee |
Best Matched Betting Sites
OddsMonkey involves unlocking the value in the free bet offers that bookmakers, casino sites & bingo sites offer their members. It's tax-free (due to it technically being gambling winnings) and if you follow the instructions carefully, you will definitely make a profit.
Once registered and logged in you are shown a list of offers to complete. Each offer will earn you a certain amount of money. They're split up into beginner, advanced and ongoing. This allows you to be trained along the way and never do anything outside of your comfort zone.
Each offer has written instructions and a video tutorial to guide you along the way. There's a list that picks out horse races and football matches for you to bet on and a calculator that tells you exactly how much you need to bet.
It DOES NOT involve gambling as the instructions, bet finder, and calculator are there to eliminate any risk and make this an easy method of making money. Gambling is when you are relying on the element of chance, in matched betting, there is no chance involved.
You have to place bets, but it is not gambling.
Readers on this website can try before they sign up for the platinum membership > CLICK HERE TO REGISTER FOR THE FREE TRIAL
OddsMonkey Prices and Plans: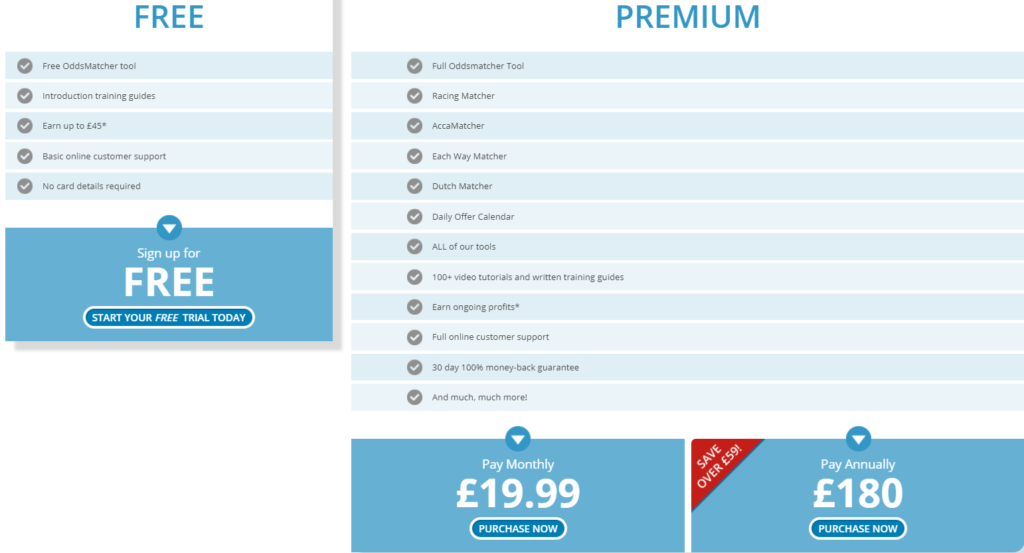 Newcomers dip their toes into matched betting with OddsMonkey.com by taking up a free trial which should typically make around £45 profit. It should be enough to convince the most skeptical that matched betting does generate profits from free bets. The trial offers are with Coral and Betfair and anyone already holding accounts with these mainstream bookmakers will need a Premium account to access more sign-up offers.

Full access to OddsMonkey Premium is available for £19.99 per month or £180 for an annual subscription, giving a yearly saving of over £59.
The trial could pay for the first three months membership and if you find matched betting is not for you, you're covered by a 30-day money back guarantee. OddsMonkey.com is so confident you'll want to continue matched betting, it'll provide a refund for any reason on condition requests are emailed before the end of the 30th day of Premium membership.
OUR FIRST IMPRESSIONS ON ODDSMONKEY
A useful 3-minute video explains how bookmakers free bets are used to make money risk free followed by a brief outline of the service and its three major selling points; the odds matching software, offer guides, and daily offers calendar.
The navigation menu has links to free guides which on closer inspection are teasers encouraging the visitor to sign up for the free trial and don't provide much helpful information. Other links provide summary explanations of the site's matched betting tools such as Oddsmatcher, Daily Offer Calendar, Calculator, Racing Matcher, Eachway matcher, Acca Matcher, Dutch Calculator, and Community, the increasingly popular forum for Premium members.

To discover the nuts and bolts of OddsMonkey, you'll need to register for the trial or sign up for OddsMonkey Premium.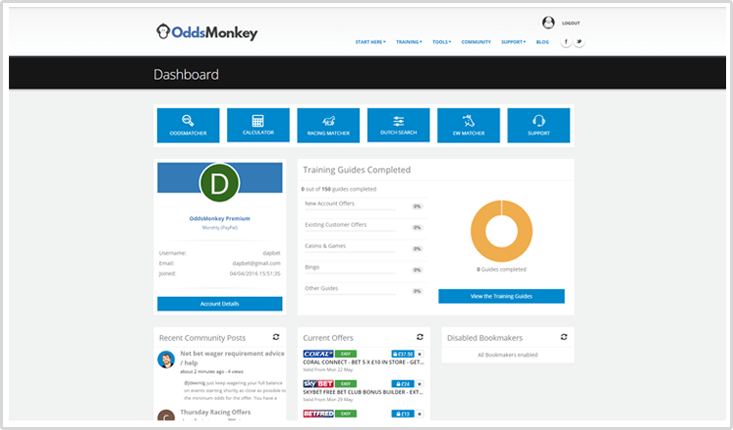 OddsMonkey has made a number of improvements to the user journey and the home page for Premium members are the Dashboard providing account details, current progress through training, and quick links to the important sections of the site.

If you've done the trial, you'll have already covered the introductory tutorials and two offers in the Start Here section. While it's not obvious where to go next, it's not too difficult to figure out how to use the Training tab to find the various offers which are categorized into new account offers, existing customer offers, casino & games, and bingo. Here you find a list of offers, each with its own step-by-step guide.

Other categories under the Training tab cover product guides, explaining how to use the various tools and there are over 20 articles with advanced tips and guides covering matched betting strategies and troubleshooting.

The guides are concisely written, making them easy to follow once you have faith in the matched betting process. New account offers are listed by how easy they are to complete and most of the easy offers have a video tutorial which will be very useful for matched betting novices but many of the offers rated 'average' and 'hard' are lacking video guides.

There are links to each guide and members can make the offers complete to hide them from the list. A 'Completed Guides' tab will reveal all that has been marked should you need to visit the offer guide at a later date. There is a search field that is deployed on the various offer sections of the site which finds returns all tutorials and guides within the section that contains the search term anywhere in the text.

OddsMonkey has collected most of the new customers offers available to the UK and Irish residents, but I noticed three fairly new bookmakers were missing including an easy to claim bonus worth around £70 profit which was disappointing from a purported market leader.
​
There are a few risk-free casino offers but by no means an exhaustive list. However, the casino guide explains what you'll need to know if you come across no deposit bonuses elsewhere on the internet. Similarly, the list of bingo offers is modest but with bingo websites appearing and disappearing on a frequent basis, the general guides adequately cover how to make money from them and there are no special tools required.

Existing customers (aka reloads) are listed in the Tools tab along with a Daily Offer Calendar which displays offers that are available to do on the day. The Current Offer list ranks offer by profitability. Beginning with those that guarantee a profit followed by advantage play offers ranked by Expected Value -an estimation of the profit over time. These values can only be taken as a guide since much depends on how close a match can be found. There is a sort filter with a number of options that can be useful for tailoring the list to your preferred workflow, for instance, if you want to the most profitable fist or like to work from bookmaker to bookmaker.

It's a well-researched list of offers, bonuses, free spins, and prizes but members are forced to dig deeper to find details of some specific offers. For instance, horse racing offers, greyhound offers, and Acca insurance offers are bundled together in one long article and can't easily be found individually. This isn't particularly intuitive for newcomers or useful for quickly identifying the best racing offers of the day.
​
The design is nice and simple and for the most part, the guides are laid out in a way that makes it easy to digest the information. The navigation is not the most intuitive and some offers can be difficult to find, however, it doesn't take too long to get to know your way around the site.
The range of matched betting tools is probably the biggest selling point for OddsMonkey, especially as they are all included with a Premium membership with no additional charges.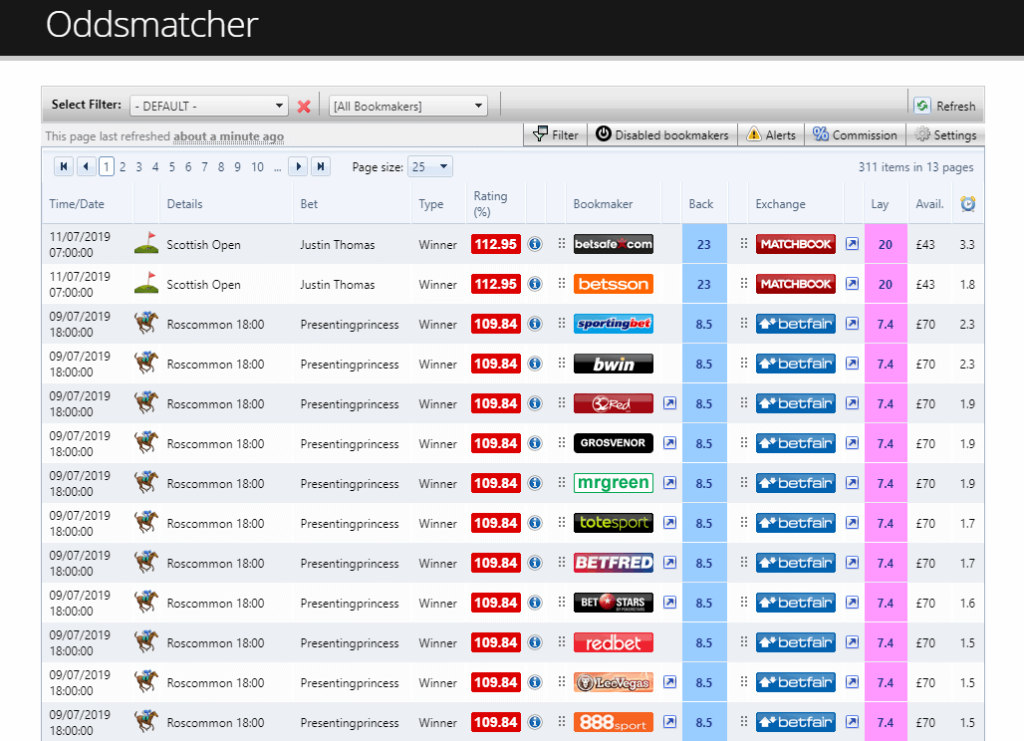 The Oddsmatcher is the main tool used for matched betting. It compares the back odds at various bookmakers to the lay odds for the same bet on betting exchanges and rates them based on how good the match is.
The range of sports covered by the Oddsmatcher is the best currently available with markets for Basketball, Cricket, Football, Horse Racing, Ice Hockey, Rugby League, Rugby Union, and US Football. It has the standard match rating and users can set minimum and maximum values as well as setting their own range of odds to search by, minimum exchange liquidity, and relative time, from now up to months ahead in 9 preset stages.

You can choose to exclude bookmakers for the search or search by any selected in the filter. Anyone benefiting from discount commission rates can set their personal rate for each exchange. Another nice feature is the ability to set email alerts for specific matches, for instance, a 95% match at odds between 2.0 and 5.0 at Goodwood. This works well in circumstances when the betting markets are fairly stable but is hit and miss the closer it gets to the start of an event due to how quickly the odds can change.

The integrated OddsMonkey calculator defaults to a £20 stake and automatically calculates the lay stake for a balanced profit or loss when adjusted to the desired stake. The calculator has options for using a normal qualifying bet, free bet stake not returned. free bet stake returned and risk-free bet. Both the match information and calculator contain links to the bookmaker and exchange websites and in some instances are deep links to the market or bet slip.
Racing Matcher and Tennis Matcher provide matches based on individual offer criteria. It's a great concept and a quick way to look for suitable matches on an offer by offer basis or race by race basis. The bets appear to be linked to the stand-alone calculator so there are no links to the respective betting sites and therefore no deep links to markets.

Racing Matcher suffers the same issue with outdated odds as the main Oddsmatcher but remains a very useful way to approach horseracing offers.
Acca Insurance is a consistent money-spinner for matched bettors and OddsMonkey has created a number of tools to help simplify the process and remove the need to use spreadsheets. Its Acca Builder suite provides ready-made accumulators with the flexibility to change selections.

The more recent Acca Finder tool churns out every permutation of accumulators it can find with a positive value in a two-week window which at least makes it easier for the user to choose alternatives. On selecting a bet with Acca Finder, there's the option to change methods, with standard lay sequential, lay all at the start, lock-in and to use sequential with a free bet. The Acca shows the financial implications of the various outcome and the expected value and qualifying loss for the chosen method. This is a much better implementation and the one I imagine most will opt to use.
OddsMonkey also has a Dutch search tool that compares bookmakers odds for two and three-way markets. The tool has a number of configurable options which is essential as in default state it returns matches from non-UK licensed bookmakers. The tool can be set to provide alerts and has the potential to save exchange commissions for some qualifying bets.

In addition to the web-based tools, OddsMonkey provides a number of spreadsheets that open the opportunity to make money from dutching extra place races, calculating the outcome of 'money back if' offers as well as spreadsheets for tracking profit and betting accounts.
Each way matcher is an advanced tool for experienced matched bettors which is designed to exploit the difference in place terms between bookmaker and exchange. In theory, there are opportunities to make money from the place odds while avoiding arbing the win odds which would put betting accounts at risk of being restricted.

​There are risks associated with non-runners and withdrawals and OddsMonkey makes it clear which races will be affected if the number of runners is reduced by one.
OddsMonkey mobile optimization is fine for general navigation of the website, watching video guides, and reading text articles. With the exception of the stand-alone calculator, the other tools are difficult to use on smartphones.

The Oddsmatcher and integrated calculator require a lot of horizontal scrolling to see important information making it difficult to evaluate the relative merits of the search results.

​The tools are much better on tablets however which could make useful second screens for matched betting but overall, the site doesn't make for a good experience for anyone who wants to do a little matched betting on the go.
Oddsmonkey provides support seven days a week up until 9 pm. Sunday to Monday from 9 am and an hour earlier on Saturdays at 8 am. Contact can be made by submitting a support ticket online or by posting a question in the forum. There is a dedicated Support forum to get an official response which can be very quick at times but often takes 10-20 minutes to receive a reply.

The community is quite active and posts in other categories will often get responses from helpful members.

There are many ways to approach matched betting and a forum is a useful place for people to share ideas, good and bad. Shared experiences with real people is also a comfort at times. As mistakes are inevitably made, it's encouraging to see you're not the only one and that any losses are quickly recovered by other opportunities.

The tutorials, product guides, and general matched betting tips form a major part of the training process for new members and there are plenty of well-written articles that serve their purpose well. There is a decent selection of videos but anyone who struggles to follow written instructions will probably want to see more.

THE ODDSMONKEY EXCLUSIVE OFFERS
0% Commission
Being a member of 
Oddsmonkey
not only makes you money but also saves you money as well.
Oddsmonkey
has teamed up with multiple exchanges giving each and every member a 0% commission on their winning bets. To put this into perspective Betfair's exchange is 5%. So for every £1000, you win into Betfair you will pay £50 in commission! And please believe me when I say this, This amount is at the bottom end of what most matched bettors put through the exchanges in a month a week, or even a day in many circumstances. So having 0% commission is vital for your profits!
Here's a small insight into some of the profits members have made during a month. These are screenshots from random months over time giving you just a glimpse of how much can be made. You will be surprised.





Pros & Cons of OddsMonkey
OddsMonkey.com has historically been best known for its Oddsmatcher software but deserves recognition for the quality of training materials provided for its members.

The racing matcher and each way matcher are good additions and will help keep the profits rolling in. The accumulator tools will also help members make money but it's disappointing to see another leader in the matched betting field unable to work out how to find the most profitable bets to place.

The training articles are easy to follow and most newcomers should have no trouble understanding what to do and why. While the site navigation is not the most intuitive, it is easy to get around with a little practice.

It's tax-free, risk-free and you can make a ton of cash for very little effort each day.

All in all, OddsMonkey.com provides a lot of features for a relatively small price at £19.99 per month or £180 per year.
Disclosure of earnings: we use affiliate links in some of the matched betting sites that appear on this page. This helps our site cover the costs of the site, Thanks for your support. Read more