MatchedBets.com, which is owned by ABC Betting Ltd, went live in August of 2016 and so is one of the newer matched betting sites to hit the scene. With the aim of improving the current matched betting service all around and focusing on in-house built tools and customer service, MatchedBets.com is driven to become the go-to site for matched bettors.
The team behind MatchedBets.com has a wealth of experience in the betting industry. The companies owner, Dave Archer, previously ran a successful chain of bookmakers before venturing online to develop one of the biggest betting affiliate sites, FreeBets.com. The teams' main focus now is MatchedBets.com, which going off the experience of the team, has a promising future ahead.
Early in 2018, MatchedBets.com and ProfitSquad.co.uk joined forces and are now one company. The merger resulted in improvements to both services and with further additions in the pipeline, both matched betting sites are fully recommended by us.
In this review, we're going to look at the service MatchedBets provides to its users, along with what users get for the free and premium subscriptions that are on offer.
MatchedBets General Info & Overview
| Specification | Value |
| --- | --- |
| | Searching for offers and checking how much profit you might make takes time - we do all of this for you. |
| | We show you the best markets and calculate the ideal stakes. You make more profit. |
| | Customer support from 8 till late every day |
| | Do you track your bets with spreedsheets? Not at MatchedBets. You can log your bets directly from their offer pages. It's quick and easy. |
| | The comprehensive information is constantly updated by their trading experts - with 30 years of industry experience. |
| | Starting at £1 for 14 days (renews at £18.00/mo) |
Best Matched Betting Sites
MatchedBets.com Offer Guides:
Hovering over the offers button in the navigation bar provides links to various offer pages including :
New customer offers
Existing customer offers
Accumulator offer
Casino offers
Bingo offers

We started off with the new customer offers as recommended in the guides. This displays a list of various bookmakers and the sign up offers they give to new customers. At the time of writing this review, there are 48 offers listed with a total guaranteed profit of £1,235. The offers are listed by difficulty, although even the offers towards the end of the list are quite simple if you follow the guides provided.
Next to each offer, it displays the guaranteed profit you'll make from that offer alongside a link to instructions on how to complete the offer. The majority of the offers towards the top of the list have explainer videos that guide the user through the offer from opening an account with the bookmaker, all the way through to placing the bets and receiving the bonus. Each offer is broken down into steps with the key points about the offer listed at the top, moving down to how to place your qualifying bet to receive the free bet, and finally how to use the free bet to make a guaranteed profit. The videos and guides are very well written and are broken down in a way that is easy to read and follow, even for beginners.
What we especially liked about the offer guides at MatchedBets is the embedded odds matcher. Each offer has the odds matcher tool embedded into the page and is preconfigured to that specific offer. For example, if you view the SkyBet offer page, the embedded odds matcher will only show matches from SkyBet. There are also options to add a filter to the results which include choosing a sport, a min/max rating, markets, and event times. Events in the odds matcher are listed by a value rating and clicking on a chosen event opens up the matched betting calculator in a new window. When accessing the calculator by clicking on an event, it is automatically preconfigured with the odds of the selection, the bookmaker, and the exchange to be used. The preconfigured odds matcher and calculator on individual offer pages are an excellent time-saver and will undoubtedly help beginners complete the offers with ease.
MatchedBets Prices and Plans: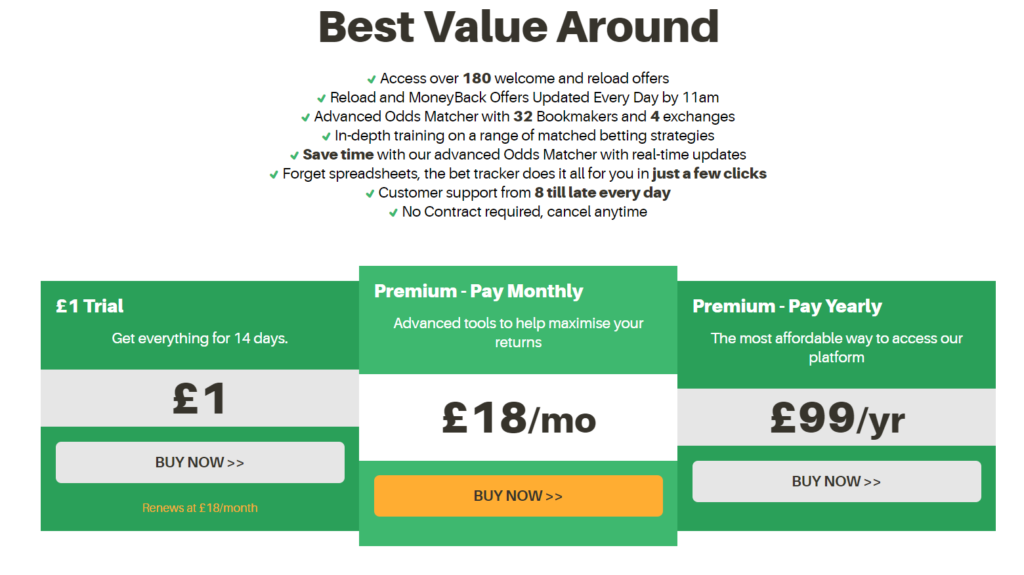 MatchedBets previously offered a free trial which gave users access to 3 bookmaker offers from which they could generate around £50 profit. The free trial allowed access to limited tools with users having to upgrade to a monthly or annual subscription to gain access to the full range of features. Similar to the model that OddsMonkey and Profit Accumulator currently offer.
However, in June 2018, MatchedBets decided that users of all standards would benefit from access to all matched betting tools and their full range of offers and so they introduced a 14-day full-access trial for the cost of £1. We agree that this will benefit users more as having access to over £1,000 worth of free bets allow you to see the potential of matched betting and how much profit can be made.
MatchedBets also have some excellent tools and software which can benefit members greatly. Having access to these from the start gives you the opportunity to generate more profit faster. £1 for 14 days full access is a great deal and more than enough time to work your way through 10-20 offers which should make you around £150-£300. Compare this to a free trial which may make you £50 and the £1 fee isn't a lot at all!
After your 14-day trial for £1, you have the option to upgrade to a monthly subscription at a cost of £18 or an annual subscription for just £99. We signed up for the monthly subscription for the purpose of this review but the annual subscription does offer excellent value and works out at only £8.25/month, which is one of the best value deals available.
You can sign up for any of the membership packages using the buttons located at the bottom of the homepage. After a simple signup form consisting of your name, email, and password, you'll be redirected to PayPal to make your £1 payment, and once processed, you're in and good to go!
All memberships give access to a number of matched betting tools and over 60 new customer offers that is worth £1,000. You will have access to their accumulator tool 'AccaBackers' which will help you take advantage of the numerous ACCA insurance offers given out by bookmakers along with the Horse Racing Matcher, Each Way Dutcher and much more.
First Impressions of MatchedBets.com
Our first thoughts on MatchedBets is that is extremely well designed. Everything you need is easily accessible from the dashboard which is where you land when you log in. You're greeted with a welcome video that explains the basics of matched betting and below this are links to 3 articles that aim to teach you everything you need to know to get started matched betting. Scrolling further down the page brings you to offers you are currently in the process of completing and some offers which MatchedBets recommends.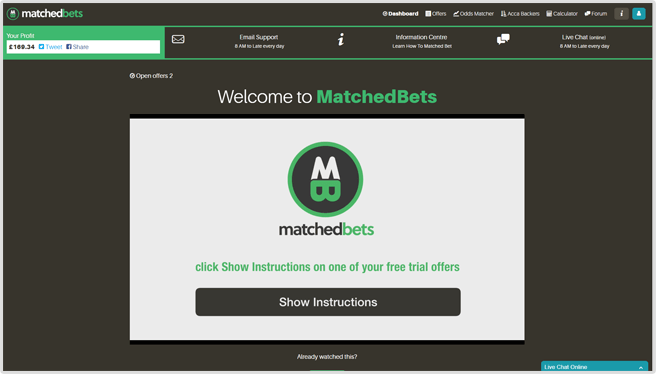 The navigation bar at the top of the dashboard conveniently shows your total profit from matched betting and you have the option to share this with friends and followers via Facebook and Twitter. There are also links to the offers pages, informational articles, tools such as the odds matcher, AccaBackers and calculator, the MatchedBets.com forum, and various methods of contacting the support team.
There are a number of tools and features provided to free and premium customers. Below we take a closer look at each one individually.
We briefly touched on the odds matcher above but we'll take a deeper look into it now. There are two ways to access the odds matcher tool. Either from within an individual offer or via the button in the navigation bar at the top of the page. As mentioned earlier, if you view the odds matcher from within an offer page, it will be pre-configured to that offer and show only matches for the bookmaker to which the offer is related. If you access it from the nav bar it will display matches from all bookmakers in the system. Currently, there are 37 bookmakers listed in the odds matcher and it covers a range of markets for football, tennis, golf, and horse racing.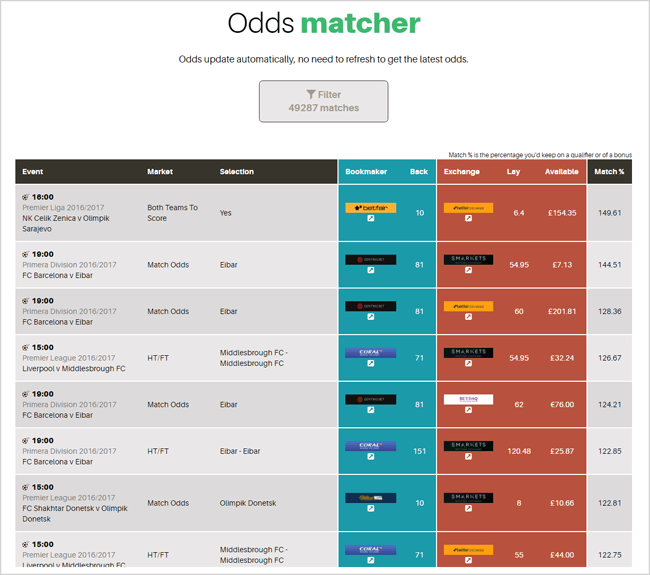 Matches are ordered by either 'match %', which is the % of the qualifying bet or bonus you will keep, or by SNR %, which is the % you'd keep from a free bet. These two options give you the best possible matches to make the most profit depending on whether you are placing a qualifying bet or using a free bet.
Users have access to one calculator on MatchedBets.com, which is really all you need as it is essentially multiple calculators bundled into one. This again saves time in not having to search for the correct calculator to use for an offer. Simply open up the calculator and use the drop-down options to configure it for your offer type.
Users can change the bookmaker and the exchange in the calculator, which will automatically update the commission % to the associated amount. There are also 9 settings for various offer types. These include :
• normal bet
• freebet
• bonus
• bonus on win
• bonus on loss
• free bet on a win
• free bet on a loss
• freebet with freebet on win
• enhanced odds as free bets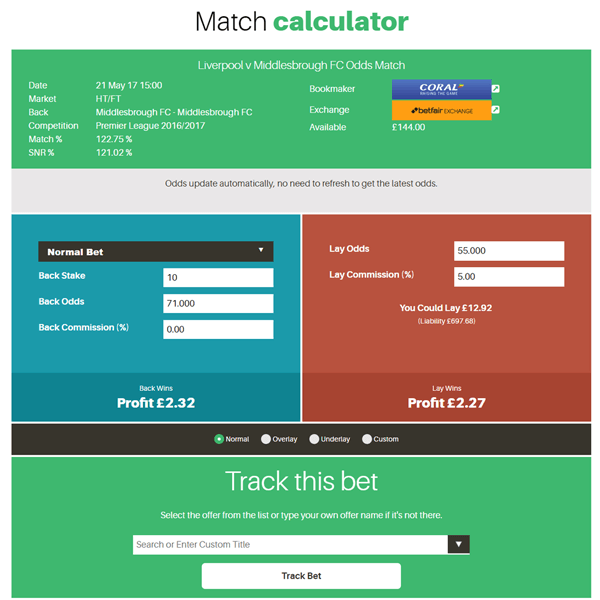 When accessing the calculator from a specific offer page it opens up pre-configured with details from the offer. This is one of many ways MatchedBets.com has made the user experience that little bit better.
Other options in the calculator include the ability to overlay, underlay, and create a custom bet.
Once the tool has calculated your back and lay stakes and you have placed your bets, you can click the 'Track Bet' button which will add it to your 'open bets'. When the event has finished you can select whether the bet won at the bookmaker or the exchange and your total profit will be updated automatically on your dashboard. You have the ability to open bets back up after you have marked them as 'done' and edit them if needed.
'AccaBacker' is MatchedBets' in-house-built accumulator tool which comes included with premium accounts at no extra cost. It generates accumulators to use with ACCA insurance offers and with so many of these types of offers around, this tool is a great addition to the site which can boost your matched betting profits by thousands a year.
There are four methods of using AccaBackers with ACCA insurance offers. All of which come with guides on how to use them. These are :
Lay Sequential
Lay at Start
Lay Sequential with Lock-In
No Lay
You can use the filter function to show compiled accumulators for each specific method, sports, a bookmaker, or other factors such as event date, min/max odds, and a number of selections.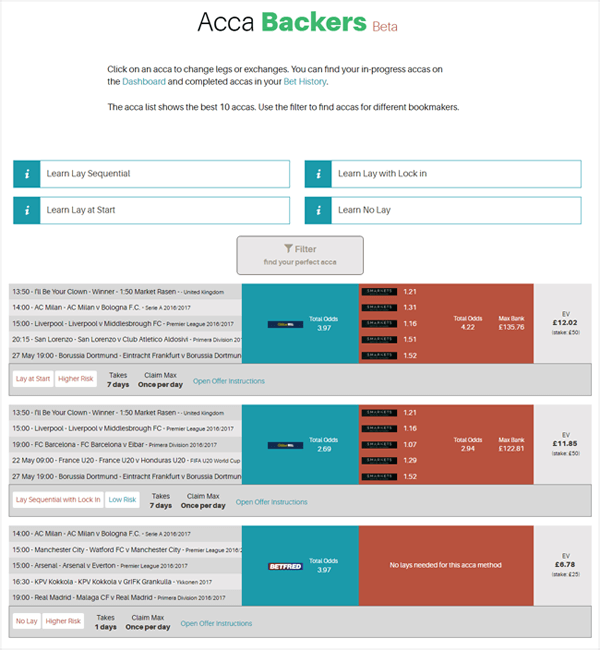 Acca Backers is configured with the rules of each bookmaker ACCA insurance offer and compiles a list of the most profitable bets automatically. There is also the option to compile your own ACCA or switch specific games to ones that may be more suitable for you. Currently, there are 13 bookmakers listed in the Acca Backers tool which gives a great choice of offers to complete on a daily basis.
The MatchedBets Horse Racing Matcher displays matches for popular hose racing offers such as the Bet365 4/1 offer, Betfair's 3/1 winner offer, William Hill's High 5, and many others.
Horse racing offers can be very profitable but the key is to find very close matches to keep qualifying losses to a minimum. The horse racing matcher helps you find these close matches quickly and easily.
One thing we love about MatchedBets is their auto-updating odds matcher and calculator. Odds fluctuate on the betting exchanges and bookmaker sites very frequently as the market changes. It can be an annoyance when you find a good match and open the calculator to work out your lay stakes only to find the odds have changed when you visit the bookmaker. However, MatchedBets have eliminated this problem as the odds update automatically in their odds matcher and calculator so that you can see in real-time when the odds have moved. Thankfully, they have included this feature in their horse racing matcher, which is excellent. Horse racing odds are more susceptible to change and this is what makes it such a good feature to have integrated into the tool.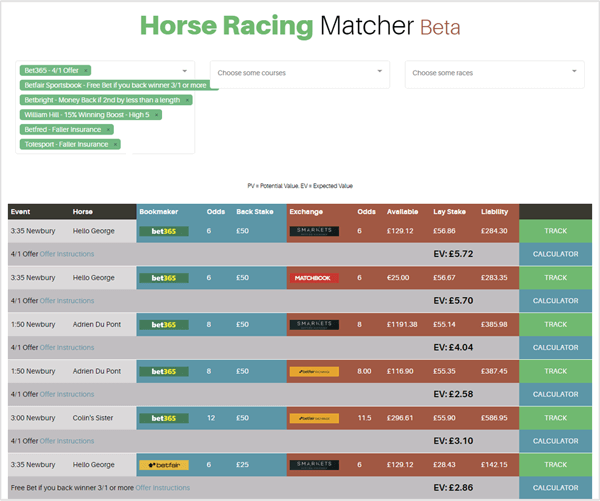 You can select which horse racing offers you would like matches displayed for as well as choosing specific courses and races. The racing matcher is configured only to show matches that comply with the T&C's of each racing offer. For example, the Bet365 4/1 offer is only valid for horses priced at 4/1 or more. Therefore, the matcher will not show any matches below these odds.
The matcher displays the Expected value of the bet along with the odds, lay stake, and liability. Once a match has been found, users can click on the calculator button next to the match to edit their stake or simply click the 'Track' button to track all bet details into their profit tracker.
The racing matcher is still in beta but it's been getting some excellent feedback and is proving to be an excellent addition to the site from MatchedBets.
Customer support is an area in which MatchedBets excel. They offer support to both free and premium customers via live chat, email, social media, and their on-site forum. The main feature of their support is their live chat. Customers can speak to a member of the support team from 8 am until late, 7 days a week. We tested out their service and were connected with a member of the team almost immediately who dealt with our query promptly and politely. After sending an email to hello@matchedbets.com, we received a reply within 30 minutes which is an excellent response time.
Pros & Cons of Using MatchedBets

MatchedBets.com have taken a look at the services other matched betting sites offer, improved on them and are now growing to be one of the most comprehensive matched betting services online. We love the seamless integration of the tools and the users' accounts, their exceptional customer support and the design of their website. With the team MatchedBets.com have behind them and their plans for further additions to their service, we are excited to see what the future holds for MatchedBets.com.
You can sign up for a free account with MatchedBets.com today by using the button below.
Disclosure of earnings: we use affiliate links in some of the matched betting sites that appear on this page. This helps our site cover the costs of the site, Thanks for your support. Read more