Profit Squad is a premium matched betting service that will help guide you through your first matched betting experience. If you're not familiar with the term matched betting, you can read our full guide here. If time is not on your side, then matched betting, in a nutshell, is a way of earning a risk-free profit with betting. This can be achieved by betting on both outcomes during an event, so you don't win or lose the bet. However, by doing this, you'll unlock a free bet with the bookmaker. You can then use this free bet and apply the same principle, turning it into tax-free profit!

Profit Squad was founded by Ben Perchard and Joe Hawes in August 2015. Since then they have made a name for themselves for all the right reasons. Their main aim is to create a user-friendly, highly competitively priced matched betting service with excellent customer service.
Profit Squad General Info & Overview
Specification

Value

Full training is available to all members of Profit Squad whether you are a complete beginner or have years of experience.

They scour the web every day to bring you the latest and most best offers from bookmakers and casinos. They list these offers on our matched betting calendar and tell you the expected value of each offer.

Profit Squad members have access to a range of advanced, yet user-friendly, tools to help make matched betting easy.

Everyone has questions whether they are a beginner or experienced matched bettor. They're knowledgeable support team are available 7 days a week to provide assistance when you need it.

ADVANCED CASINO STRATEGIES:

Annual members get access to advanced casino strategies to help you maximize returns from high-risk casino offers.

UNIQUE DUTCHING STRATEGIES:

The Profit Squad team have developed unique dutching strategies after months of research. However these guides are available to annual members.

Every now and again, opportunities arise to take advantage of loopholes in betting offers. The Profit Squad team and community are experts in finding these loopholes and if you've heard of one, it's likely that it was mentioned on Profit Squad first.

30-day money back guarantee
Best Matched Betting Sites
Profit Squad involves unlocking the value in the free bet offers that bookmakers, casino sites & bingo sites offer their members. It's tax-free (due to it technically being gambling winnings) and if you follow the instructions carefully, you will definitely make a profit.
Once registered and logged in you are shown a list of offers to complete. Each offer will earn you a certain amount of money. They're split up into beginner, advanced and ongoing. This allows you to be trained along the way and never do anything outside of your comfort zone.
Each offer has written instructions and a video tutorial to guide you along the way. There's a list that picks out horse races and football matches for you to bet on and a calculator that tells you exactly how much you need to bet.
It DOES NOT involve gambling as the instructions, bet finder, and calculator are there to eliminate any risk and make this an easy method of making money. Gambling is when you are relying on the element of chance, in matched betting, there is no chance involved.
You have to place bets, but it is not gambling.
Profit Squad Prices and Plans: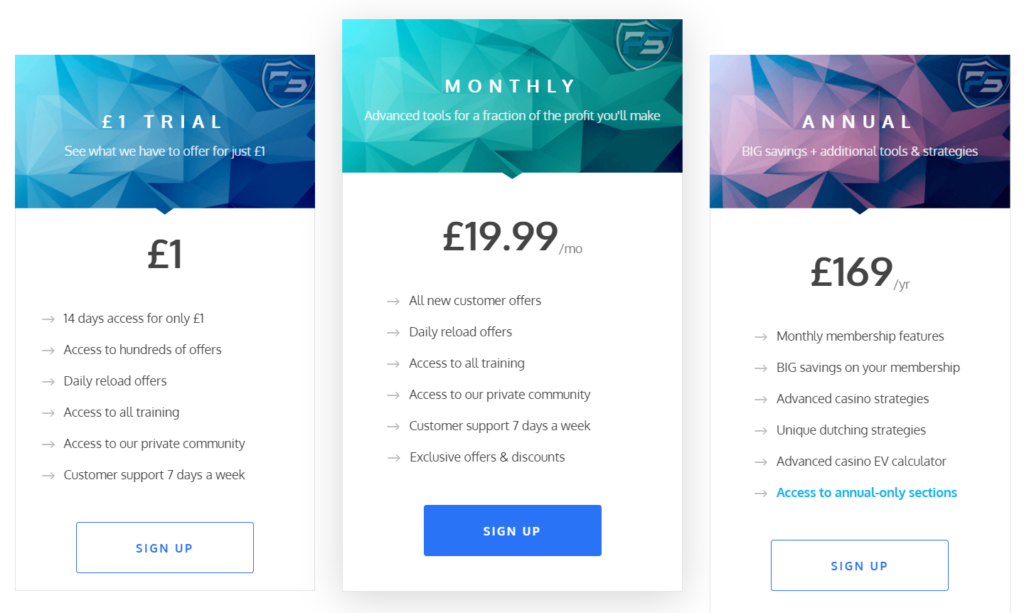 Unlike other betting sites, Profit Squad does not offer a free trial but a minimum subscription fee of £1 for 14 days with full access which can extend to monthly and annual packages. The pricing for the renewed account cost £19/month. However, if you sign up as a member and you can also subscribe for £169 annually.
This gives the user an opportunity to try all the tools and gain valuable knowledge of how the service works. If you did decide to go for the  £1 trial, you could quickly have acquired enough profit to pay for a monthly or annual subscription fee. Even if you are a newbie, the Matched Betting service provides all information and powerful tools to help you through the process with full access to all the features for 14 days by which time, you would have enough experience to do without the help.
First thoughts on Profit Squad
Once you are signed in, the site provides full access to the comprehensive guides which includes training through videos and write-ups about the process of match betting. These guides and instructions are especially useful for beginners, and they contain instructions for the match betting software and tools which are all inbuilt in the site.

TRAINING:  Profit Squad delivers training for the customers through short, clear, and easy to digest videos and text guides. These videos train the members to use risk-free betting to their advantage and earn maximum profit with simple steps. The instructions are in the bettor's point of view, so they are valuable and informative even for users who have no clue about the match betting services and tools yet.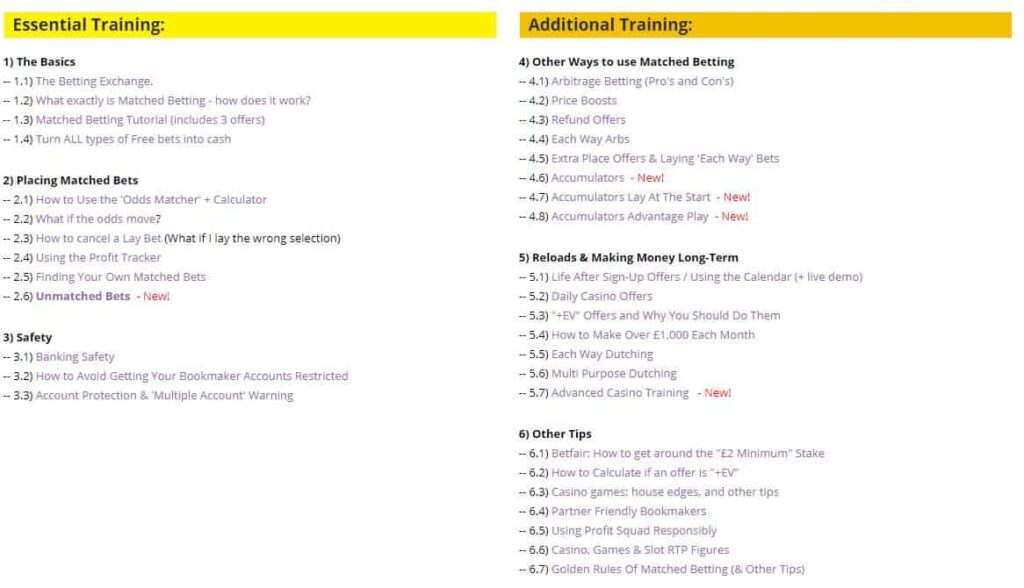 NUMEROUS STRATEGIES AND OPTIONS: Currently, there are 50 varieties of sports categorized into three sections, each for beginners, intermediate and advanced bettors.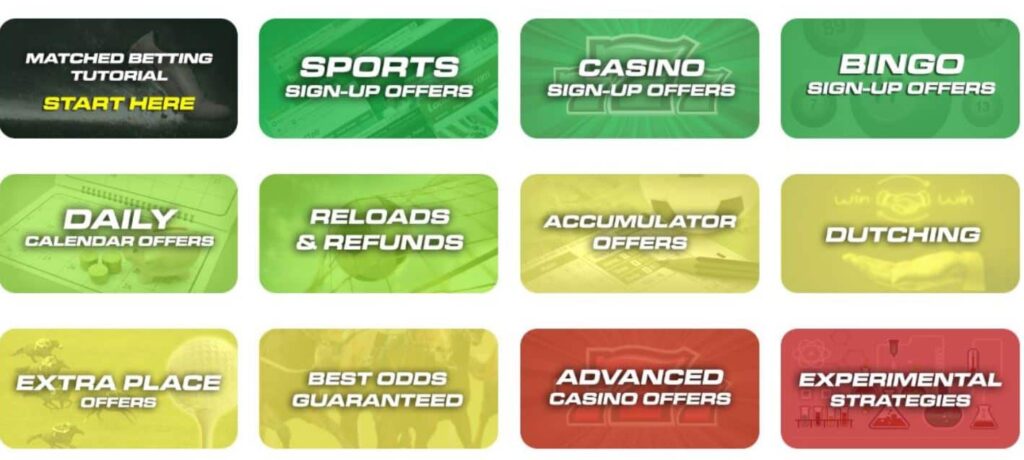 TOOLS & SOFTWARE: The site provides links and software of professional tools that can help you convert, keep tracks and manage all your activities, expenditures, and profits. They also offer software that can help you crunch numbers and remove the risks in each strategy. Manual search and comparisons are entrusted to the software suite while you concentrate on making a profit.

FLEXIBILITY: Whether you have limited time or the whole day to invest in Profit Squad is ideal for both. Learning the trade takes less than an hour, so spending your time to improve your knowledge and skill to strategize your bets better is advised. The process is flexible, and it is entirely up to you to decide how much effort, money, and time you want to put into it.
Profit Squad Offer Guides
They offer guides on Profit Squad are excellent and some of the best I have come across. Each offer guide is broken down into sections for creating an account, placing your qualifying bet, and finally, placing your free bet to make a profit. The guides are extremely well-written and beginners should have no problem following them even if they have no experience with betting.

One excellent feature of the offer guides, which also features on MatchedBets.com, is the integrated odds matcher. You'll find the odds matcher integrated into each offer guide and preconfigured to the terms of that specific offer. For example, if you are viewing the William Hill new customer offer, the odds matcher in the guide will only display matches for William Hill which are eligible to qualify for the offer. If the minimum odds are 2.0 for the qualifying bet and the bet must be on football, the results in the odds matcher will only show matches based on that criteria. You could open up the odds matcher and manually filter it with these criteria but this saves a lot of time and effort.

There are various categories for offers such as New Customer Offers, Sports, Casino, Advanced Casino (Available to annual members), existing customer offers, Accumulator Offers, Free Bet Clubs, Horse Racing Offer, and Daily Offers. Currently, there are just over 60 New Customer Offers which can be turned into hundreds of pounds of profit.
Profit Squad Matched Betting Tools
The calendar is where Profit Squad lists their daily reload offers for existing customers. Having the offers listed as a calendar helps users work their way through the offers for the day and keeps things organized. At the top of the list of offers for each day Profit Squad list the total +EV and guaranteed profit should you complete all of the offers? Again, this is a nice touch as it gives users a clear understanding of how much they can profit each day.

Clicking on an offer takes you to the instructions on how to complete it. Users also have the option to discuss the offer on the forum.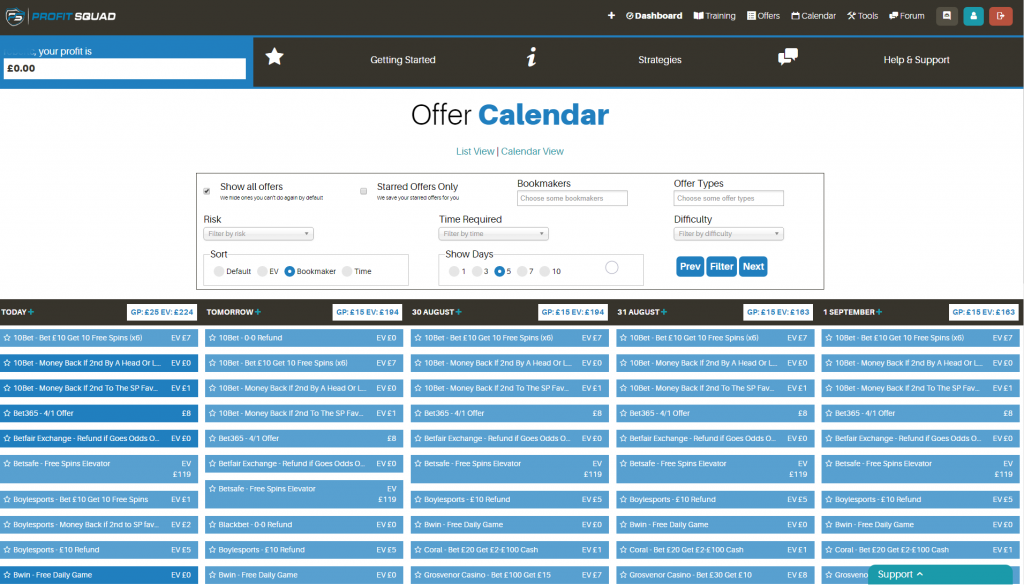 You'll be using the oddsmatcher for the majority of your matched betting offers to find good matches and so it is important that you use one that makes the process as simple as possible and with good results.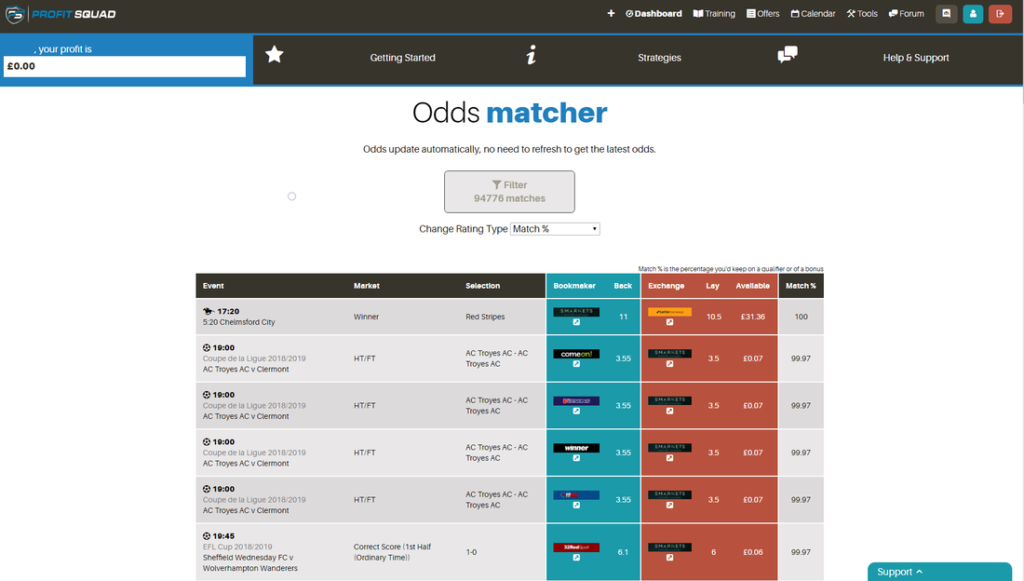 The Profit Squad oddsmatcher has everything you need to find a good match quickly. Events are automatically listed by rank, which is a score given by how good a match the bet is. Users can filter the events by the bookmaker, exchange, min/max odds as well as the time of the event, the market, and if they wish to include 'Arbs' in the results. Arbs are matches that will provide a profit by simply backing on the bookmaker and laying on the exchange without the need for any bonus offer or free bet. Arbs are not usually recommended when matched betting as they are considered a 'red flag' signal to the bookies that you may be matched betting.

Clicking on the icons opens a new window and takes you to the event page on the associated betting exchange or bookmaker. This is a good feature that saves time searching for the event manually. When clicking on an event, the calculator has opened in a new window that contains the pre-filled details of the event such as the back odds and lay odds. From here, users simply have to enter their stake along with the bet type and the calculator will display the required lay stake for maximum profit.

Since the merger with MatchedBets.com, the Profit Squad odds matcher has been improved and now auto-updated. This means that when the odds change on the bookmaker or betting exchange, they'll update automatically in the odds matcher along with the rating. This is a very useful feature, especially when trying to find a match on an event that is close to starting and the odds are fluctuating quickly. It saves users a lot of time and a feature we'd like to see on more matched betting sites.

There are currently 49 bookmakers included in the odds matcher, giving users excellent options for finding matches for various offers and events.
The Profit Squad calculator contains a lot of features and instead of having separate calculators for different offer types, users can simply select the bet type from the drop-down menu and the calculator will do the rest. The calculator automatically works outlay stakes for qualifying bets, Free bets, Bonuses, Bonus on Win, Bonus on Loss, Free bet on a win, Free bet on loss, Free bet with a free bet on the win, and Enhanced odds as free bets. These options cover a number of offer types and users just have to enter the back & lay odds, stake, and exchange commission to be able to view the ideal lay stakes for their bet.

There is also the option to choose to overlay, underlay, or custom lay which is somewhere in between.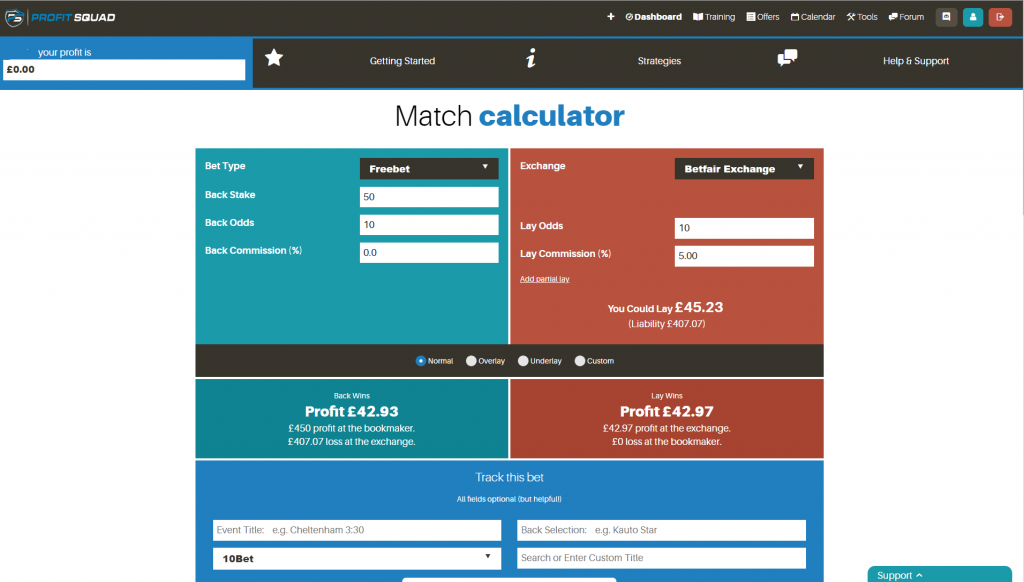 Profit Squad focus a lot on casino offer and advanced casino strategy. Casino offers aren't for everyone but many members have proved they can be extremely profitable in the long term. An essential factor in deciding whether or not to do a casino offer is if the offer is +EV or not. Thankfully, Profit Squad provides members with an advanced casino calculator that helps calculate the EV of an offer based on a number of factors such as bonus type, wagering requirements, and a number of other terms that you may find in casino offers.
The calculator is one of the best we have seen and will no-doubt help beginner and experienced casino players.
Profit Squad provides a tool for users to track profits and completed offers. When an offer is completed you can click the button to mark it as 'complete'. You can also track each bet you make by clicking on the 'Track Bet' button from within the calculator. The results are then shown in graph form for each month which is a nice way to monitor your matched betting process. Users can also view their total profit in the main navigation bar.

Profit tracking is something all matched betting sites should have as the days of keeping spreadsheets to track profits is or should be, long gone. Profit Squad members can view any bet they have tracked at any point and mark it as won or lost which will update their total profit. I also like the addition of the 'potential profits' in the graph which shows how much you could make if you completed all of the offers listed in the daily calendar. This feature will give users proof that a consistent profit can be made from matched betting every month even when all sign up offers have been completed.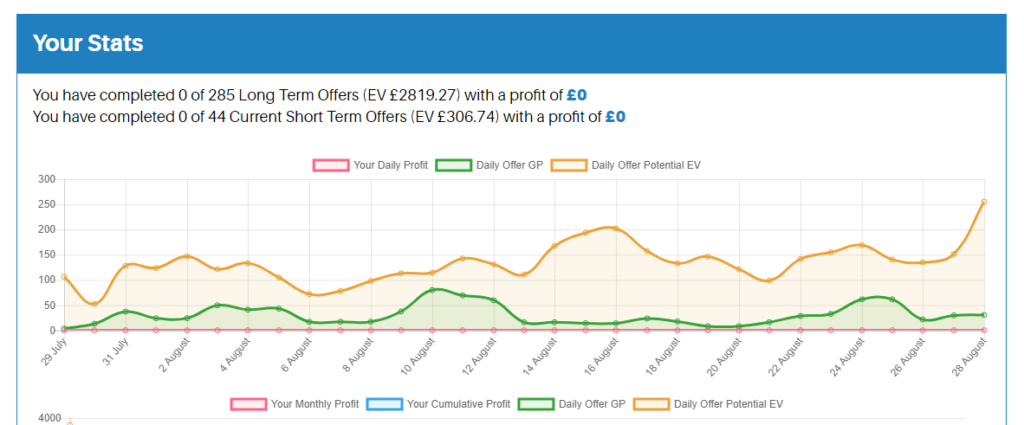 The Horse Racing Matcher is a great tool for quickly finding close matches for some of the most popular horse racing offers. Offers such as Bet365's 4/1 offer, William Hill's 2 Clear, and multiple Money Back is 2nd offers can all be very profitable. The Horse Racing Matcher is preconfigured to display matches only for these offers making finding matches and completing the offers quick and easy.
There are profitable dutching opportunities every day but finding them manually would be extremely time-consuming. Thankfully, Profit Squad has developed an each-way dutching tool that helps solve that problem. Although still in beta, the dutching tool displays dutching opportunities where users can place bets at various bookmakers on horse races and by covering the entire field, generate a profit. It's a great tool that members seem to love. One thing Profit Squad seems to do well is looking for ways to generate additional profits outside of standard matched betting. They have also developed an advanced Each Way Dutching strategy which is unique to Profit Squad and available to annual members.
The Profit Squad App has been released to give users quick access to a range of matched betting calculators, profitable betting offer guides, and matched betting training.
The app is free to download and is available on both Android and iOS devices from the associated App Stores.
Both members and non-members of Profit Squad are able to benefit from the app with much of the content available for free without the need to log in. Members of Profit Squad can benefit more from the app by being able to access their accounts directly through the app as well as having access to additional matched betting tools and daily offers.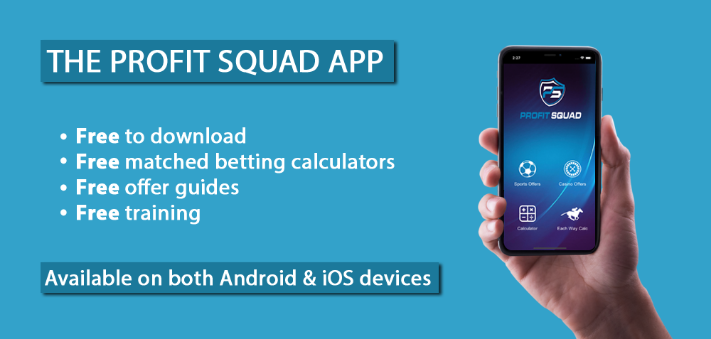 Profit Squad currently offers support to its members via email (support@profitsquad.co.uk), on-site forum, and via their Discord channel. I sent an email to their support team and it was replied to after 30 minutes with a polite and informative reply, so no complaints there. The forum is laid out simply but effectively and posts are generally responded to very quickly. Post counts seem relatively frequent with members sharing offers that aren't posted on the site, offering support, and discussing current offers.

• Email (support@profitsquad.co.uk)
• Forum
• Twitter (click here)
• Discord
Pros & Cons of Using Profit Squad
Profit Squad is an excellent matched betting site that offers a lot more than just the usual matched betting offers. There is a helpful and very knowledgeable community of members who are constantly looking for additional ways to make money through betting sites. They offer a range of features and tools and offer very fair subscription fees for their 14 days, monthly, quarterly and annual packages. Their forum is great for users to ask questions and feel part of the Profit Squad community and we have no complaints about their email support. The Discord channel is especially useful for new and more experienced members and there seems to be a good number of members online at all times.
Disclosure of earnings: we use affiliate links in some of the matched betting sites that appear on this page. This helps our site cover the costs of the site, Thanks for your support. Read more