Profit Accumulator Review Australia

Profit Accumulator is a matched betting service based in London and Nottingham. They teach their members the concept of matched betting and provide them with the tools, offers, and support needed to make a regular second income from home.

The Profit Accumulator membership includes access to all the training, sign-up offers, reload offers, calculator, tools, dedicated support team, and the thriving community forum of fellow matched bettors.
They've taken the winning formula from the UK and applied it to the Australian market. Their Australian based team are there to help you find the offers and provide support on everything.

For those of you looking for an honest review, look no further. This is my honest and detailed Profit Accumulator Review.
Profit Accumulator was established in 2014 and since then has blazed a trail for matched betting as an industry. They're the UK's leading matched betting service.
In the short space of a few years, they have moved matched betting from a little-known practice to a recognized legitimate way of earning extra income from home in your own time.
They provide all the training, tools, support, and community in exchange for a very reasonable membership fee. They have more than 150,000 active paying members since they started.
Profit Accumulator General Info & Overview
| Specification | Value |
| --- | --- |
| | Since we started in 2014, we have had over 150,000 paying customers. Meaning we're the biggest and most trusted matched betting site in the UK. |
| | Support via free phone, email, help center and the forum. They are always on hand to answer your questions. |
| | They've developed an innovative oddsmatching tool as well as many other pieces of software, to make matched betting easier. |
| Step-By-Step Offer Guides: | There are hundreds of offers to work through, with simple step-by-step tutorial videos. We list more offers than any of our competitors. |
| | We have the biggest and most active matched betting community forum in the world, filled with experts to help you on your journey. |
| | 30-day money back guarantee |
| | Keep track of all your matched betting earnings with our unique Profit Tracker. No more spreadsheets. |
| | Earn consistent profits, 100+ bookmaker bonuses, Easy to understand video tutorials, New offers uploaded every day, Full forum access, No contracts. Cancel anytime. |
Best Matched Betting Sites
Profit Accumulator involves unlocking the value in the free bet offers that bookmakers, casino sites & bingo sites offer their members. It's tax-free (due to it technically being gambling winnings) and if you follow the instructions carefully, you will definitely make a profit.
Once registered and logged in you are shown a list of offers to complete. Each offer will earn you a certain amount of money. They're split up into beginner, advanced and ongoing. This allows you to be trained along the way and never do anything outside of your comfort zone.
Each offer has written instructions and a video tutorial to guide you along the way. There's a list that picks out horse races and football matches for you to bet on and a calculator that tells you exactly how much you need to bet.
It DOES NOT involve gambling as the instructions, bet finder, and calculator are there to eliminate any risk and make this an easy method of making money. Gambling is when you are relying on the element of chance, in matched betting, there is no chance involved.
You have to place bets, but it is not gambling.
Readers on this website can try before they sign up for the platinum membership > CLICK HERE TO REGISTER FOR THE FREE TRIAL.
Profit Accumulator Prices and Plans: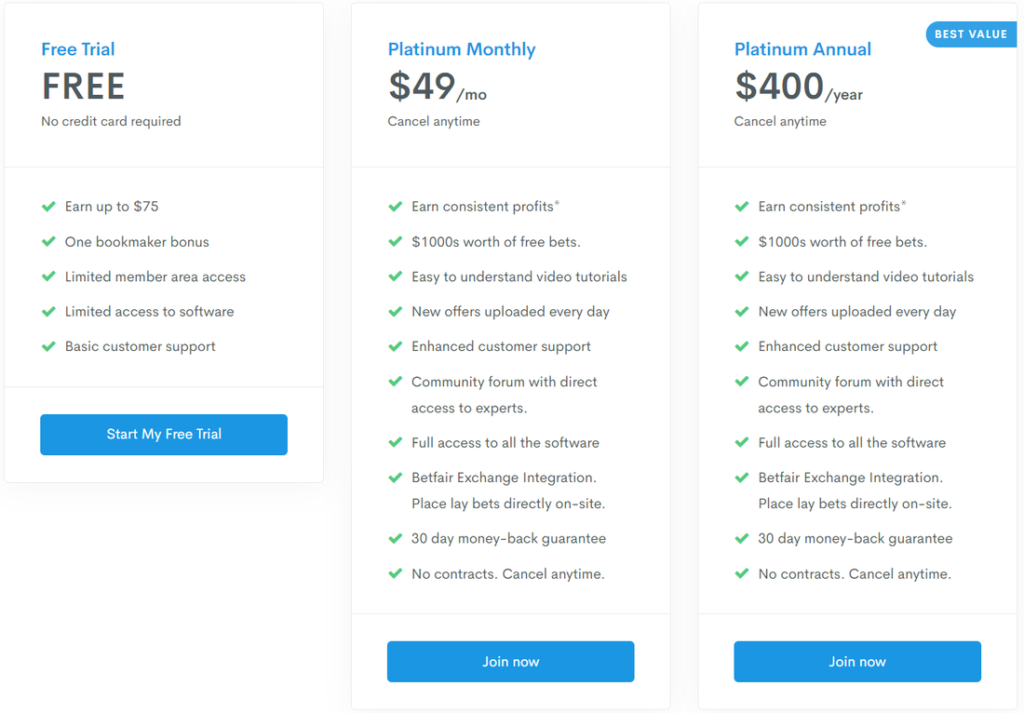 There are a few pricing options with both monthly and yearly options available, not to mention a free trial for those unsure of the product. Better still, increase market competition resulted in price reductions for all membership options!
Profit Accumulator's free trial is an excellent option for anyone interested in using the matched betting service. The trial consists of two offers that are free of charge and provide up to $75 in profit and access to some of the basic features.
The free trial is certainly worth a go for anyone curious about Profit Accumulator or matched betting in general, as it gives you a good taste of what to expect from the website.
Best of all, it guarantees a profit of up to $75, and while your profits may not be as high as this, you still have the chance to make enough cash to cover a few month's memberships by simply taking advantage of the free trial.
To gain access to the entire Profit Accumulator service, you must sign up for a Platinum Membership.
Platinum Monthly Membership
The first of these is a monthly payment option that costs $49.00 per month, and while not the cheapest matched betting membership fee, the number of tools and features you gain access to makes it a worthwhile investment.
This membership costs a one-off annual payment of $400, offering a saving of $188 compared to using the monthly membership option. While not everyone can afford this one-off payment, those that can will make a significant saving doing so and gaining access to Profit Accumulator for an entire year is a sure-fire way to make lots of profit – it'll end up paying for itself if used correctly!
First Thoughts on Profit Accumulator
The Profit Accumulator home page is quite generic, a brief video explains the basic principle of matched betting, stressing how the method removes the risks of gambling by making guaranteed profits from bookmakers' sign up offers.

The page features brief explanations of matched betting, how it works, and what ProfitAccumulator.co.uk offers. It promotes its 20,000 strong membership which is assuring and provides three testimonials from happy customers.

Join now links take the visitor to the signup page to create a profile. Simply complete the form and log in with the credentials you set up. You'll land on the welcome page to be presented with three tiles; a basic matched betting training guide with videos and accompanying text, a link to the first two offers, and an option to upgrade to Platinum membership.

There are further links to the knowledge base with over 30 help articles, a useful FAQ, and a link to the forum.

Platinum members log in page gives full access to the site. Links to the various offer types are laid out in a grid with Sportsbook Sign Up Offers, Casino Offers, Reload Offers, Bingo Offers, Training Archives, Platinum forum, and Help & Support. The offer pages list links to offers and some helpful guides related to the section you're using. There are options to mark offers and articles complete, this hides them from the list and useful for keeping tabs on progress through these one-time offers.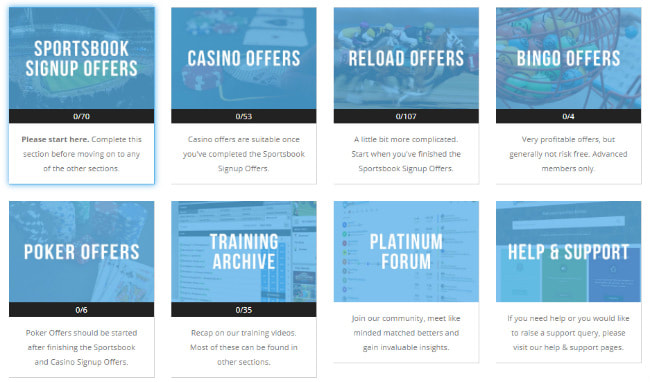 There are two layout options, the default displays offer with logos and the condensed option produces a list without the images.

"View offer" links take you to the guide explaining how to do the offer. Most contain a video walkthrough which is very helpful for novices and every offer has a concise text guide that is easy to follow. The guides contain further links to discuss the offer in the forum and to report any mistakes that might appear in the offer description. The pages are neatly laid out and cover all the essential information to complete the offer.

Training articles appear in appropriate places in the various offer lists in order to provide relevant tuition when needed. A Training Archive contains all articles in one place for anyone who needs to recap. Some of the training materials were out of date at the time of writing this review. For instance, the video explaining what to do about an unmatched bet referred to using a tool on an old version of an external website despite ProfitAccumulator.co.uk having its own web-based tool for the job.

Overall, the design looks a little dated but its simple layout and well-placed links to articles and forum discussions make it easy to use for people of all levels of experience.
Profit Accumulator provides a suite of odds finding tools and calculators all included in the cost of Platinum membership. The basic oddsmatching tool is the most frequently used and will find bets to use when qualifying for sign up offers and using free bets. At the time of this Profit Accumulator review the tool searches odds from 48 bookmakers and compares them with lay odds available for the same markets on five betting exchanges.

It produces results for horse racing winner markets and five football markets; match odds, correct score, over/under, both teams to score, and first goalscorer. This isn't as comprehensive as similar odds finding tools on other matched betting websites but is more than sufficient for working your way through sign up offers. It is left wanting to some degree by a lack of sports coverage. There are many reload offers for tennis, cricket, basketball, darts, golf, and rugby and the inclusion of some of these sports would be a valuable time saver when it comes to making regular monthly profits from existing customer offers.

By default, it lists matches from every bookmaker and exchange, ranked by how close the match which is indicated in the rating column. Ratings above 100% indicate arbitrage opportunities but matched bettors wanting to keep their betting accounts for the long term will be more interested in ratings in the high 90s. It would be useful to be able to sort by SNR% for using free bets, as this value dictates how much profit can be retained. Match rating is a reasonable indicator but less precise.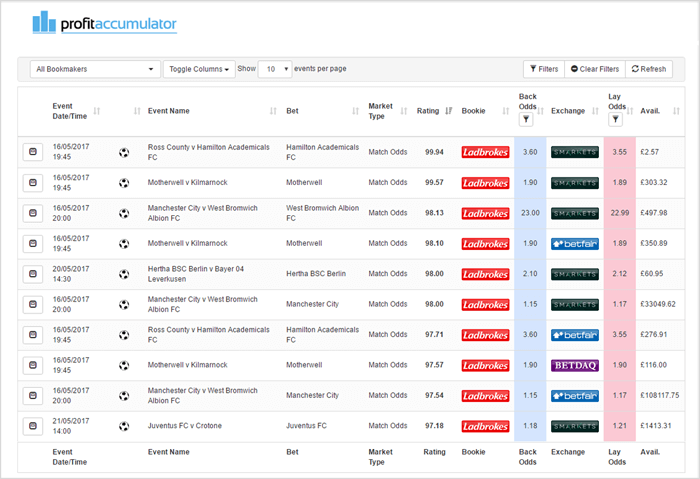 Filter options are intuitive and allow you to search by any combination of bookmaker, exchange, sport, and/or betting markets. Text search can be used to find odds for specific competitions, like Premier League, Champions League, etc, and worked very well for football but not horse racing meetings. Other options include settings for minimum exchange liquidity, min/max values for match rating and odds plus a few options to limit the timeframe of events.

Each result has a link that opens the integrated matched betting calculator and displays the back and lay bets to place. The calculator includes two options when using free bets, stake not-returned and stake returned for use with bonuses.

The oddsmatching tool finds plenty of bets that allow users to make money from betting offers but has an annoying flaw in the number of bets with inaccurate odds which ultimately costs valuable time.

It's to be expected that exchange odds can move very quickly and minor adjustments may be required at the calculator. However, bookmaker odds tend to be more stable and when their odds change, it usually means aborting the bet and going back to the oddsfinder for an alternative. It's disappointing how often the bookmaker odds have changed when navigating to the market. This is not a matter of unfortunate timing where the bookmaker has coincidentally changed its prices, using the refresh button on the odds finder may not update to the new odds for as long as 5 minutes or more.
Match Catcher is a tool that attempts to make it easier to do horse racing refunds. It's pre-configured with races with betting offers and shows the qualifying cost of the bet before opening the calculator. It's flexible enough to filter by race and by the bookmaker, odds update faster than the standard oddsfinder, and allows you to set alerts that give an audible notification when it finds a match that fits your criteria.

This tool is a genuine time-saver. allowing you to juggle multiple bookmakers at the same and make profits from potentially valuable advantage play offers.
Acca Catcher is another time-saving tool that allows members to make more money from football Acca insurance offers. The tool provides thousands of ready-made accas with an integrated calculator to work out the lay stakes and can be saved to allow you to set the result and see the next lay bet to make. Acca catcher is intuitive and easy to use with options to set the Acca as a normal qualifying bet, to lock in the profit from the free bet, or to lay all selections at the start and save having to monitor progress.
Filters allow you to search by the bookmaker and set limits for total cumulative odds. The option to set minimum EV (the expected long term value of the bet) will drastically reduce the search results and I recommend you do so. In default format, Acca Catcher has no qualms about listing worthless bets with negative EV.  It's a good addition to the site and, along with Match Catcher, was an expensive extra until recently bundled with a normal Platinum subscription. It will certainly help members make more money thanks to the ready-made accas and in-built calculator. Acca Catcher doesn't always produce accas with the best EV due to the algorithm used, I was able to do better by skimming down William Hill's football lists picking my own selections but that was a lot more time-consuming. It also has no provision for No Lay accas which are the most profitable way to do Acca insurance and takes less time than any of the methods on the Profit Accumulator Acca tool.
The free trial and platinum membership begin by teaching you the signup offers. This involves signing up to the bookmaker websites and using their promotional offers such as "Bet $10, get $30" to turn their free bets into withdrawable cash.
You can begin with these offers with around $50 to start with. The early offers are very profitable so your initial $50 will soon be close to $150 in a matter of days if you stick with it.
They are REALLY easy to do and teach you the basics of MB. This concept alone is what will be used to make over $1000 profit within your first few weeks. The only thing that'll hold you back is waiting for the bookmakers to pay the money back into your bank account! The majority use Paypal which is really quick, though, so it's rarely an issue.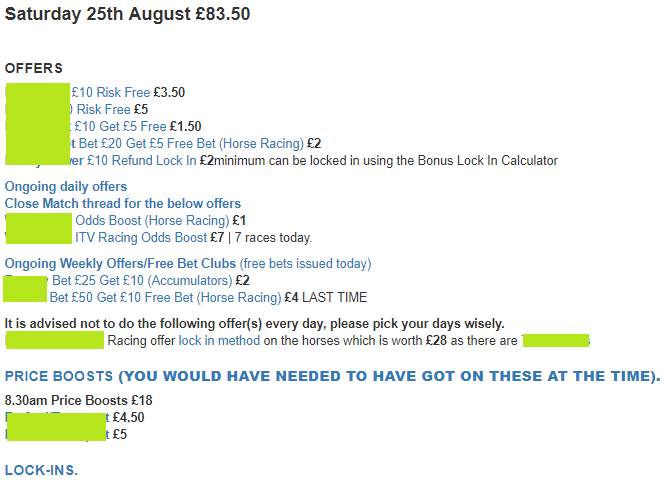 These offers are what the bookmakers use to keep their customers active and spending money. There's a huge range of offers that cover sports betting, arcade games and bingo.
An example reload offer might be to bet $30 on the FA cup final and get a free $30 bet on the champions league final. I personally did this reload offer and made $24 from it. It took me around ten minutes.
People often ask if you can make money once all the signup offers are done, or if they already have accounts with the major bookmakers. Yes is the simple answer.
Bookmakers NEED people to keep betting and to achieve this they literally keep throwing offers out to you. Profit Accumulator shows you how to make money from each of these offers.
They're updated in both the member's area and the forum throughout the day. All the instructions, advice, and tips from other members is guaranteed to make you a regular stream of money throughout your MB journey!
Profit Accumulator contains a discussion forum where users can get quick answers to their questions, a list of daily reload offers, and general tips and advice.

When PA first began, there were only a few hundred members. They just used a Facebook group to handle chat, questions, and the posting of offers. It soon became obvious that there'd need to be a dedicated forum to handle the number of questions and to start building a more permanent structure to educate future members.

• The forum is lightning fast and updates itself when people post replies to your questions.
• There's a live feed of current discussions and a well thought out, logical structure – that makes finding answers to your questions very easy.
• You can upvote the most useful comments so future guests will never miss the best answer to a question.
• It's categorized so you know exactly where to find new offers, existing offers, and advanced tips and tricks.
• You can enable desktop notifications – allowing you to get constant updates when new threads and replies are posted.
• There's an app called Catapush which PA have hooked into the forum, so you can forum notifications directly to your phone for free

The forum brings the whole MB community together. Everyone helps you profit, stay motivated and keep you up to date with what's going on.
Is It Easy To Learn and Understand?
Profit Accumulator offers simple-to-understand written, video & audio tutorials on how to complete offers. The instructions are detailed and contain all the information that a user will need. Any further questions are quickly answered via the support channels or in the relevant section of the forum.

The member's area is laid out in a step-by-step list. Each list item contains either a training article or an offer. An offer contains detailed instructions and a video tutorial on exactly which website to visit and how to extract the free money from it.

They explain the process, show you how to use the calculator, how to place the bet, and how much money you should expect to make.

Its very simple and easy to understand, even for beginners that have never placed a bet before.
Profit Accumulator Support
As well as the forum moderators, the company's support staff are reasonable.
They're clued up on matched betting, but also provide good customer service whether you need to ask queries about their service or your membership via the phone or email.
Their service is usually absolutely fine, although with almost any company you're going to have stories of unsatisfactory dealings.
Profit Accumulator offer a 30 day full refund if you do not make your money back, so you are essentially free rolling the process.
Personally, when I first joined, I signed up for a full year to the paid 'Platinum' package.
My twelve-month membership cost me £180 and I was in profit after just two weeks, despite not understanding a thing about matched betting before I joined.
There are thousands of Profit Accumulator success stories, and these are shouted about in the various clubs they have on their forum.
They have a $1k profit club, a $3k profit club, a $10k, a $25k, a $50k and even a $100k profit club that has several members in – all from matched betting through the site!
As well as providing many success stories on a regular basis, these clubs also provide motivation for many other matched bettors.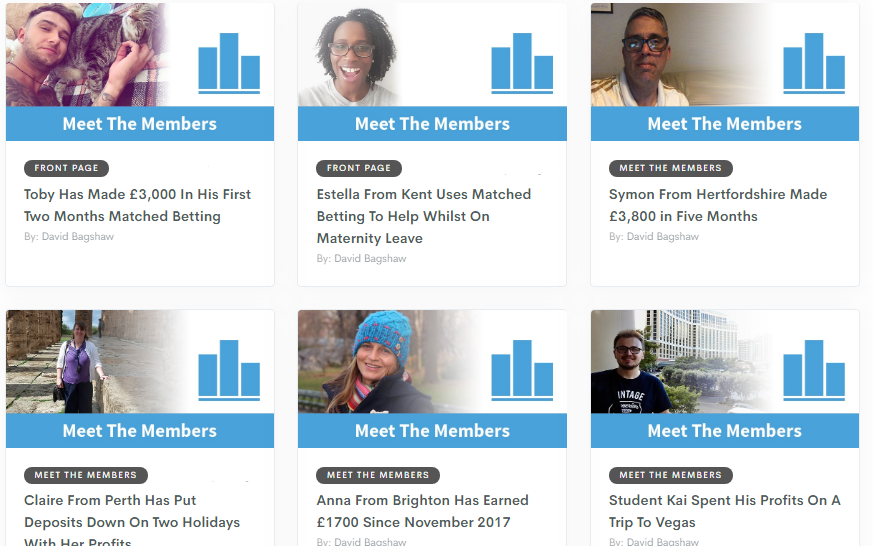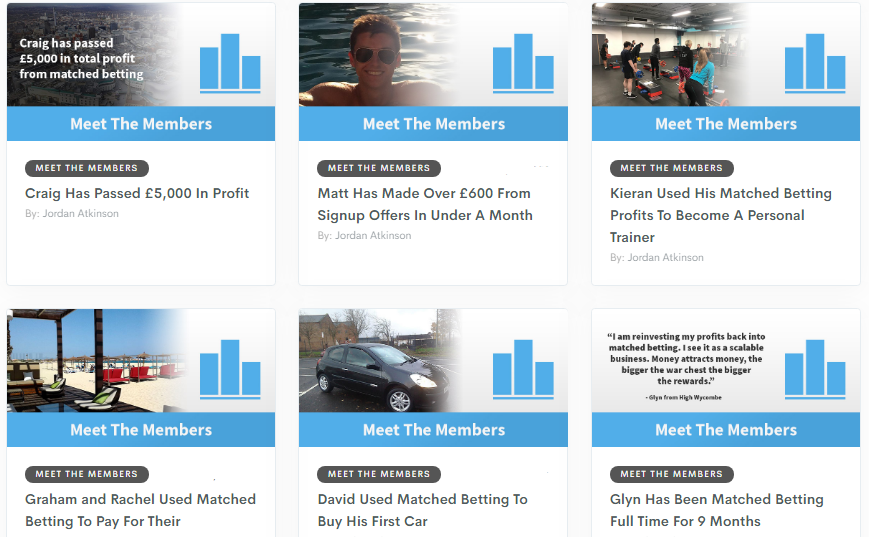 Excellent Reviews of Profit Accumulator on Trustpilot

Profit Accumulator is rated as excellent on Trustpilot and has a rating of 9.4 as you can see here
Pros & Cons of Using Profit Accumulator
Matched betting is a method of making a profit from free bets and bonuses given by betting sites. Nearly all online bookmakers give customers free bets and incentives for signing up to their sites. A regular punter would use these free bets as normal and risk them on events they think will win. However, with matched betting, you cover all outcomes of an event meaning that one of your bets will win. By doing so, it's possible to make a profit from every free bet that you receive.
Matched betting isn't anything new and has been around for many years. With the addition of matched betting sites such as OddsMonkey, Profit Accumulator and many more, matched betting has become a reliable method of making a regular monthly income for thousands of people.
How Much Money I Can Make with Profit Accumulator?
You can quite easily make over £1,000 tax-free profit every month with Profit Accumulator. To make this amount of profit, you will probably have to dedicate around 1 hour a day to matched betting on average.
How Long is Profit Accumulator Free Trial?
The Profit Accumulator 7 day trial is a very straightforward offer. Sign up as a Profit Accumulator Free Member via the link. You will then receive full access for 7 days for just £1.
Do I Need to Know About Sports or Betting?
No. You don't need any knowledge of sports or betting to do matched betting. We have step-by-step instructions on all the offers which if you follow, you will make money. The outcome of the event is irrelevant, so any prior knowledge of sports is not needed.
What if I'm already Signed Up to Bookmakers?
There are over 70 registered bookmakers in the UK, so you probably haven't signed up to all of them. Even so, after the signup offers bookmakers give out reload offers to retain customers, and we have step-by-step easy to understand instructions for each offer.
One of the good things about matched betting is that you can do it in your own time. The more time you put in, the more offers you can do and the more money you will make. On average, for the £300 a month for example, usually spend about 5 hours a week matched betting. That works out at £15 per hour.
It sounds too good to be true. Is it a scam or worse, illegal?
No. Matched betting is 100% legal and is recognised as the most effective way of making money online. It's been featured in many national publications (Guardian, Telegraph and Calvin Ayre). Better still, the money you earn is tax-free. The reality is that if you invest the time to learn, you will make money. It really does work.
All-in-all, Profit Accumulator is an amazing site for your matched betting. You weren't the first person to be cautious and visit this website to read my review, and you won't be the last. However the review and screenshots I've added, and the testimonials that I took from a few members in the Facebook Forum have been more than enough to convince several hundred of you to sign up. I have yet to find a bad review on the internet about PA!
Of those people that have joined, not a single one has regretted it and decided to leave. I think that speaks for itself. Join the free trial and make the $75. Then go sign up for the monthly membership. $49.00 a month is nothing when you're earning and extra $1000 a month like me. 
Disclosure of earnings: we use affiliate links in some of the matched betting sites that appear on this page. This helps our site cover the costs of the site, Thanks for your support. Read more